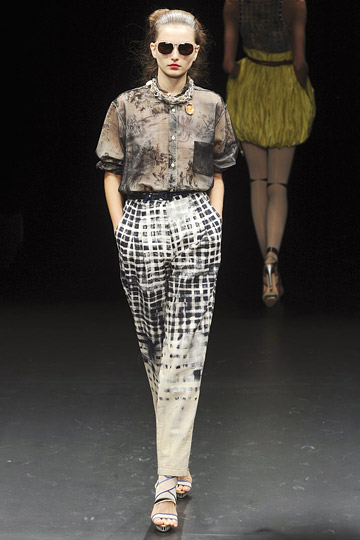 beautiful checked pattern fading away on the pants, ADORE the soft print on the sheer chiffon button up.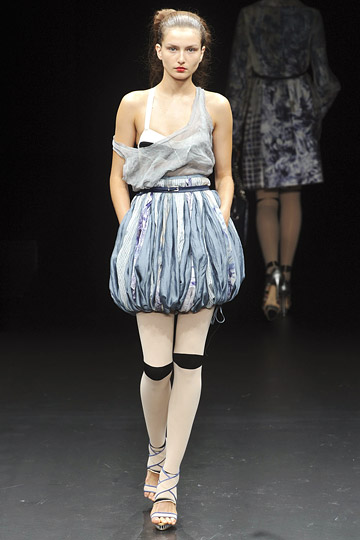 beautiful. the sash that goes across from shoulder to waist really pulls both pieces together. love the neck accessory as well.
love the pleating and puffed out silhouette of this piece. the neckline is super gorgeous, it's like a blooming flower.
(images from nymag.com/fashion)
WUNDERKIND spring 2010 RTW
is
WUNDERUL.
this collection, with different ranges from color to print to fabric to cut, is exceptionally creative and actually super cohesive. wunderkind's use of mixed patterns does not turn out horribly, but rather beautifully artistic. the mixing fabrics and their prints and the athletic looking legwear make me think of this collection as a darling sporty raggedy ann. the first few pieces of the collection consisted of dark navy materials and ballooning silhouettes, paired with the blue diamond and white leggings. then it transitioned to sheer and a little more feminine with the soft blues and reds on coats, shifts, tops, and fitted shorts. i absolutely adore this collection because it makes you want to rethink "athletic." one thing i noticed is that closer to the end of the collection, the models wear interestingly thick and chunky clogs. okay, so i don't appreciate the footwear (at least THAT section) but i really love the outcome of the whole collection. the frilly and more feminine frocks towards the end have to be my ultimate favorite of the whole collection. beginning to end, wunderkind does wunders.
xx