rodarte s2010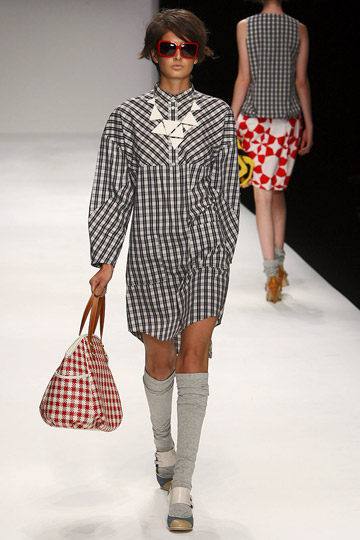 eley kishimoto s2010

(images from nymag.com/fashion)

i was experimenting with this omniwonderful tartan or PLAID, you could say, skirt. i wore it as a dress in 3 different ways, all with a leather belt or two.

(BTW: PICTURES 2 AND 3 ARE BOTH CUT OFF :( SO CLICK TO ZOOM!)

(1) one shouldered dress: i just slipped on the skirt from it's waist and wore it on one shoulder, and added a leather belt to cinch the waist.

(2) strapless with overlay: i first put on one leather belt and then i pulled up the dress from the part above the belt.(like look #3) then i added another leather belt over it. (gee this sounds so complex.. but really it isn't lol)

(3) strapless with belt: i just pulled the dress out so that it hung over the belt a little bit.

1 DRESS, 3 WAYS.

INSPIRATION: i really love plaid, whether it is in small amounts or large amounts. the rodarte piece from the spring 2010 collection is a great mix of different elements. i love the dirty looking (okay.. i mean the dull and boring colors) of the plaid and how it is played up in the whole piece.

the kishimoto piece from the spring 2010 collection is beautiful in its' own way. with the plaid covering the whole dress, there is no need for anything else except a simple, block color necklace; like the one the model is wearing! (which i REALLY want, it's adorable).

xx