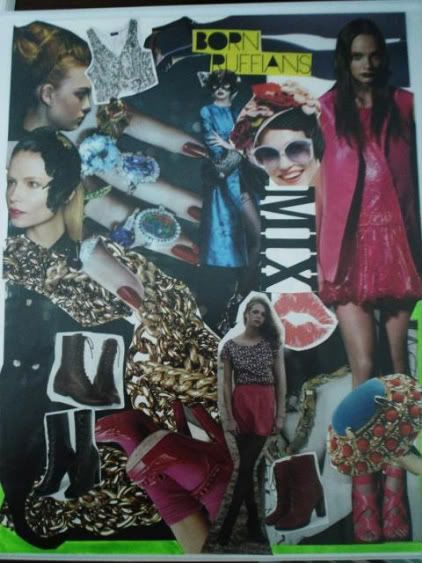 (magazine collage pictures from various: Harper's Bazaar, Teen Vogue, LA, UO catalogues)
so, school starts tomorrow. i already have a week's outfits planned :DD yayyyy. they are surprises.. so i will post them as the days pass and i wear them. [1,2,3] these are my collages.
the first one i made today. i really have TOO many magazines, so i just cut some pictures out and placed them like so. i really love the first one because of the popping colors. the second one is very rocker. and the last one has COCO ROCHA on it :)
[4,5,6] this is my first day of school outfit.
i'm wearing a black tank top from g-stage, a tankdress from old navy, a metal bead necklace from a christian store, my DIY braid necklace, maybe sheer tights, and converse+a cute vintage bag from my mom from Bally, and amazzzing shoes from dollhouse. i love them :D
so. monotonous. whatever.
i'm crazed about fashion this year, even more so than my last year. hopefully i will REALLy develop a style that is unique to me. i don't want to be like the juicy-abercrombie-ugg girls,
i WILL have my own style this year.
xx