(
images from nymag.com/fashion
, BECAUSE MY STUPID COMPUTER WON'T LET ME GO ON FRIGGIN' STYLE.COM. okay.)
------------------------------------------------------------------------------------------------ what a wonderful change in weather. now i've got to discard my tights and beautiful *sniff sniff* high waisted skirts for long jeans and huge jackets. goodness. well i mean, i could totally just get thicker (uh wool ...?) skirts and tights (uh wool....?) yes. most likely if i do that then i will itch to death. so my point is, the outfit above (1st picture) is the last containing something sleeveless and short. SAD SAD. well, winter is great for all layering and that. but i still need these essentials :( -black flat oxfords or brogues
-brown leather equestrian boots (need to get mine fixed or something)
-a wool coat, preferably black mm-hm.
anyways.--
GILES DEACON SPRING 2010
never get tired of this, and the guy either.
his ability to mix a VARIETY, i mean VARIETY, of textures and prints into one cohesive collection really blows me away. seriously, look at all the textureee.. its like your eye eating something really ... delicious (?)
the first gown/dress is absolutely stunning, from the shiny super reflective almost space-y gold bustier to the softness and structure of the rest from waist down. the second piece equally is made of that same shiny material, which i love so much. not tacky if giles deacon does it. the third piece is so feminine and frilly, very light and airy, like it could fly... or something. the fourth is SERIOUSLY a visual treat. i don't know what the 'spikes' exactly are made of, but the whole effect of this simple black dress, covered in the spikes, is simply aesthetically pleasing. it's clean cut silhouette doesn't throw the whole piece overboard. the fifth piece is GORGEOUS. the hard and edgy cutout black leather bustier contrasted with the crinoline-ish skeleton of a skirt is a beautifully balanced mix of hard and soft. the necklace pairs PERFECTLY with this piece, adds to the roughness of the top half of the piece. the sixth piece is not another tar-and-feather mess but an elegant dress. the black feathers adds a little bit of stylish pomp and the bottom half of the dress contrasts nicely with the top half. the seventh piece, OH THOSE PANTS. the blue hue is so interesting and not common, which is something i always look forward to. and THE DINOSAUR BAG.
oh boy. i'm probs gonna get a stuffed dinosaur and make it into a bag one day.
andddd just to tell you guys in advance: upcoming and hopefully (will be done soon) DIYS
-commes des garcons exposed toe shoes for NB
-more necklaces
-andddd. something else that's exciting/interesting/worth DIY ing.
+++ Thanks Bella, from
English Eccentric
for giving me this great award :D it's my second, and i'm happy. it's like a birthday present!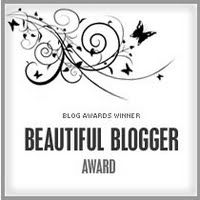 xx